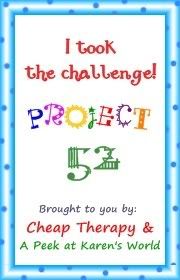 Last year I followed along in fascination as Karen of A Peek at Karen's World tackled 65 goals in 365 days in her Face it Friday Challenge. I was amazed that Karen was able to come up with 65 tangible and very specific goals that she wanted to meet and was awed as I watched her accomplish them week after week. This year she and her cohort Jennee have switched things up a bit and they have now started Project 52, in which they will attempt to accomplish 52 goals over the course of the year. And to keep them accountable they will report their progress each and every Monday. To top it off, they are inviting other bloggers to join them. You can read more about Project 52 at A Peek at Karen's World, but here's the gist of it in Karen's words:
" You don't have to do 52 things. You can do as many or as few as you want. It's entirely up to you. The point is just to do something. To wake up next January 1st knowing that you finished something you set out to do. That's what it's all about."
I'm not one to make resolutions, but this idea of making a list of goals and actively working at them intrigues me. This is just the kind of challenge that a Type A girl like me thrives on. But I wasn't sure I would be able to do it. At first I thought it would be impossible to come up with anywhere near 52 things I want to accomplish. But then I realized that I do have a list of things in my head that I want to do "someday". And another list of things I should do, but never get around to. Project 52 is just the thing to make those things a reality. I've been wracking my brain for two days now to come up with a list. And so far I have 36 items. This may not be the final list, however. I will not remove any items from the list, but I just might add some as I think of them. But I want to get started as soon as possible, so here's my list of goals for Project 52.
1

. Try one new non-soup recipe a month


2. Try 6 new soup recipes
3. Cook 3 times per week
4. Buy a Dutch oven
5. Invite my mother to dinner once a month
6. Host 4 Sunday dinners for extended family
7. Take a yoga class
8. Take a zumba class

(added 1/7/11)
9. Take a Pilates class

(added 1/7/11)
10. Walk or exercise 3 times per week
11. Join a gym
12. Walk to work at least once a week - in nice weather
13. Join and complete Shape Up RI

(added 1/7/11)
14. Write book reviews for all 4 and 5 star books read in 2011

(modified 1/8/11)
15. Read one Shakespeare play
16. Read one Jane Austen novel
17. Read one non-fiction book by Alison Weir from my tbr list
18. Read one book on my tbr list that has been on the list for at least 3 years
19. Visit one new to me library in RI
20. Make a day trip to Boston just to explore and get my bearings
21. See a Broadway show in NYC
22. Ride the subway in NYC
23. Go away for a long weekend with my husband
24. Go on a relaxation and rejuvenation retreat - alone
25. Spend a weekend in Portsmouth, NH with a friend
26. Explore the shops on Hope St. in Providence
27. Go to the beach at least once this summer
28. Try 3 swanky restaurants in the Providence area
29. Visit Linden Place in Bristol, RI
30. Pay attention to local politics
31. Watch one Netflix movie per month
32.
Go to the movies once a month
33.
Post at least once a week
34.
Write a weekly letter to my daughter who is away at college
35.
Buy a scanner for my computer
36. Keep fresh flowers in family room
37.
Donate to a charity or cause once a month
38. Just say "no" at work
39.
Stabilize my kitchen shelves with new supports
40. Schedule one Mental Health Day per month
(added 1/7/11)
If anyone else wants to join in, there is a linky posted at Karen's Blog. Think about it. I really think this could be fun! And I'll be sure to post here every week and let you know how I'm doing. Wish me luck!